As the global outbreak of the COVID-19 outbreak exceeds 660,000 infected people at the time of writing, more governments are implementing stricter movement control orders in a bid to curb the spread and to flatten the curve. This impacts how often we can go out to get daily supplies and a 10kg bag of dog food may not be the best use of the limited space available for stocking up.
However, you can make delicious and healthy dog food right at home from ingredients you already have, and your pet would thank you for it. With your spare time from the lockdown, here are 10 popular recipes that you can try out from home for your pets.
1. Vege-rich Turkey Quick and Easy Home Dog Food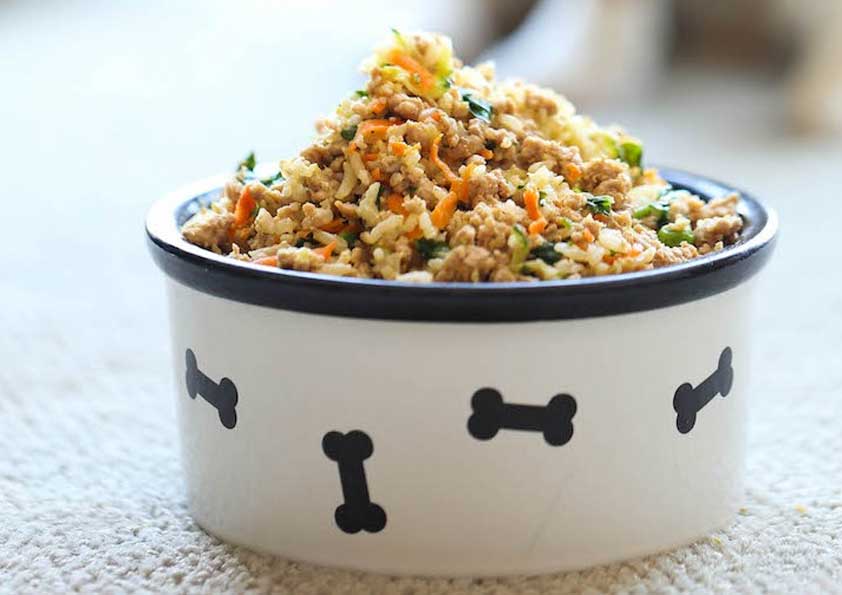 Keep your dog healthy and fit with this easy peasy homemade recipe – it's cheaper than store-bought and chockfull of fresh veggies! With a balance of 50% protein, 25% veggies and 25% grains, its the perfect meal for your pet.
INGREDIENTS:
1 1/2 cups brown rice
1 tablespoon olive oil
3 pounds ground turkey
3 cups baby spinach, chopped
2 carrots, shredded
1 zucchini, shredded
1/2 cup peas, canned or frozen
DIRECTIONS:
In a large saucepan of 3 cups water, cook rice according to package instructions; set aside.
Heat olive oil in a large stockpot or Dutch oven over medium heat. Add ground turkey and cook until browned, about 3-5 minutes, making sure to crumble the turkey as it cooks.
Stir in spinach, carrots, zucchini, peas and brown rice until the spinach has wilted and the mixture is heated through, about 3-5 minutes.
Let cool completely.
For the full recipe and instructions check out damndelicious.
2. Delicious Brown rice and Turkey with Rosemary home food for your dog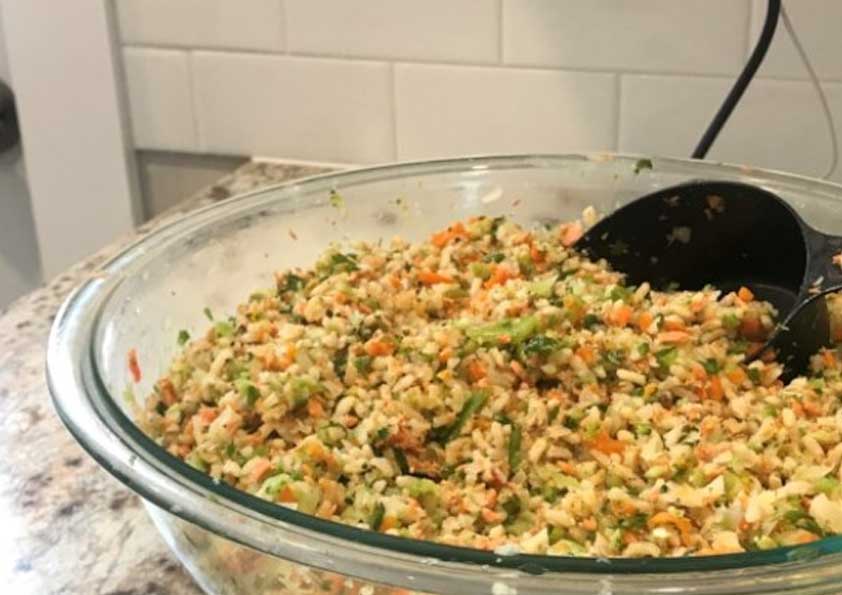 This delicious concotion has the added fragrance of rosemary to bring your pet running from the opposite end of your house. It can easily be made with frozen ingredients and left over turkey from dinner. With a total cooking time of just 30 minutes its quick too!
Ingredients
6 cups water
1 pound ground turkey
2 cups brown rice
1 teaspoon dried rosemary
1/2 (16 ounce) package frozen broccoli, carrots and cauliflower combination
Directions
Place the water, ground turkey, rice, and rosemary into a large Dutch oven.
Stir until the ground turkey is broken up and evenly distributed throughout the mixture
Bring to a boil over high heat, then reduce heat to low and simmer for 20 minutes.
Add the frozen vegetables, and cook for an additional 5 minutes.
Remove from heat and cool.
Refrigerate until using.
For the full recipe and instructions check out Allrecipes
3. Easy Crockpot Recipe DIY dog food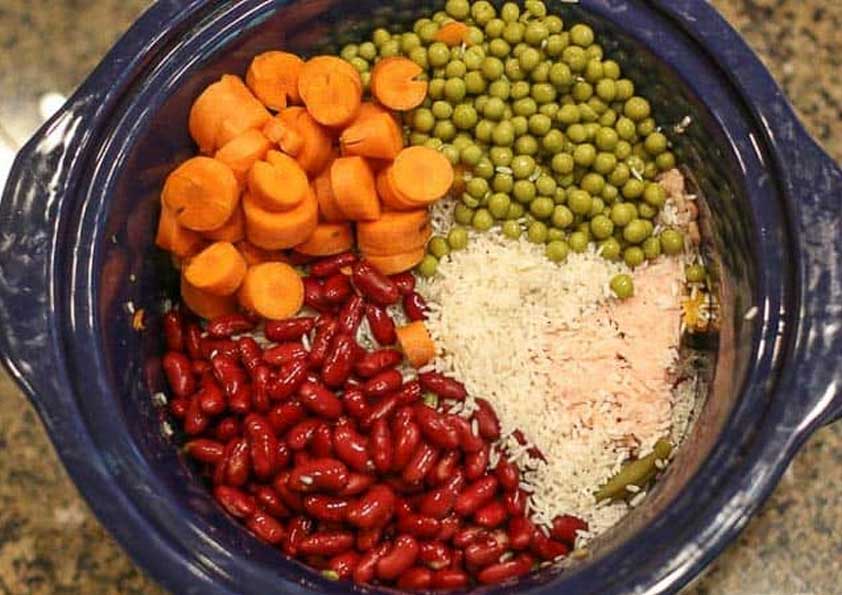 If your dog is picky about the food it eats or suffers from food allergies, here's a homemade dog food crockpot recipe that would help your dog. This is an easy homemade dog food crockpot recipe. Just throw all the ingredients in the crockpot and cook for a couple of hours. Out comes healthy homemade dog food that your furry family member will love! You can add in ground egg shells for extra calcium or chicken livers for extra iron too.
Ingredients
3 lbs lean ground chicken
1 cup butternut squash I use frozen, precut
15 oz can kidney beans drained
1 cup peas
1 cup green beans
1 cup carrots sliced or diced
1 1/2 cup uncooked rice
4 cups of water
Directions
Throw everything in crockpot.
Cook on high for 4 hours or low for 6 hours, stirring occasionally.
For the full recipe and instructions check out A Fork's Tale
4. Low Carb High Protein home made dog food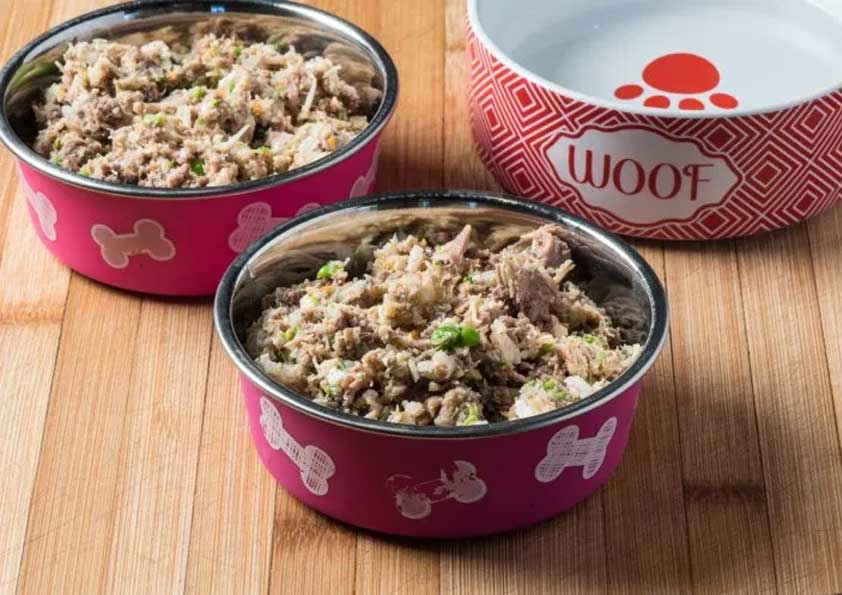 Your pet is family, and thus deserves only the best ingredients with no fillers or added sugars or spices. Your dog needs protein from animal meat, seafood, dairy, and eggs. They need fat from meat or oil and carbohydrates from grains or vegetables. In addition, essential fatty acids from plant oils, egg yolks, oatmeal, and other foods. The question is in what amounts? After much research, the author has created a recipe that their dogs love. A must try!
Ingredients
2 pounds Ground beef
2 pounds Ground turkey
14 ounces Tuna (2 cans, in water)
1/2 pound Chicken gizzards
1/2 cup Cottage cheese
3 Eggs
1 cup White rice (cooked)
6 ounces Sweet potato
6 ounces Green peas (cooked)
6 ounces Cauliflower
6 ounces Broccoli
1/2 Apple (medium size)
3 tablespoons Coconut oil
Directions
Cook rice per label instructions. In a second pot boil the chicken gizzards until cooked thoroughly – about 10 minutes. Add eggs to this pot for the last 5 minutes to hard boil.
In a third very large pot cook the ground beef and ground turkey until browned. Drain off most of the fat and remove from the heat.
Use a food processor to grind the raw peas, raw broccoli, raw cauliflower, 1/2 apple (cored and seeded), cooled gizzards, and peeled eggs. This may take two batches.
Microwave sweet potato for 3-4 minutes until soft.
Add all ingredients, including the canned salmon or tuina, to the large pot with the beef and turkey. Add cottage cheese and coconut oil at the end. Mix well with a wooden spoon to incorporate.
This will make two weeks food for two nine pounds dogs. Place in freezer bags, label, and date.
For the full recipe and instructions check out Tasty Low Carb
5. Fiber Filled Homemade Dog Food Recipe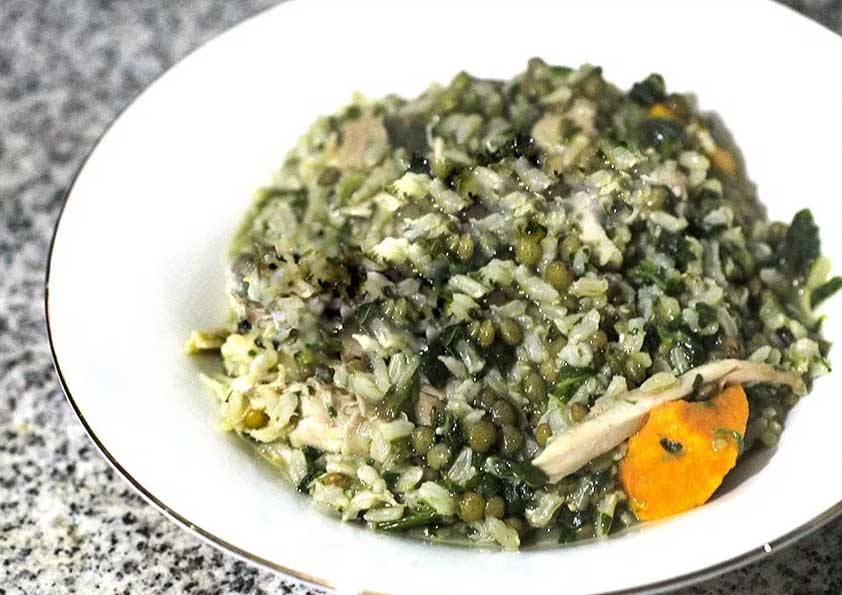 If your pet has constipation problems, give this recipe a try. You can also separate it and freeze it for future use. Put 2 meals worth of homemade dog food into Ziploc bags and thaw them overnight. You can get around 2 weeks of food from this recipe, but be sure to check with your vet to find out how much homemade dog food you should be feeding your pet. When it's time to feed your pet, the author recommends to use a double boiler to heat the food up.
Ingredients
1 lb. Ground Turkey
1 lb. Shredded Chicken
3 cups Water
1 medium Sweet Potato, peeled and diced
2 cups Brown Rice
1/2 cup Lentils
2 tbsp. Pumpkin Puree (not pumpkin pie filling)
1 cup Chopped Spinach
2 tsp. Olive Oil
Directions
Boil turkey and chicken in 3 cups of water over medium heat for 20 minutes.
Remove the meat from the water and set aside.
Add rice, lentils, and sweet potato to the water and return to a boil. Cook for 15 minutes.
Add remaining ingredients and cook until the liquid has been absorbed.
Mix in the cooked meat and serve warm.
Freeze unused portions and feed as directed by your vet.
For the full recipe and instructions check out With a splash of color
6. Homemade Raw Dog Food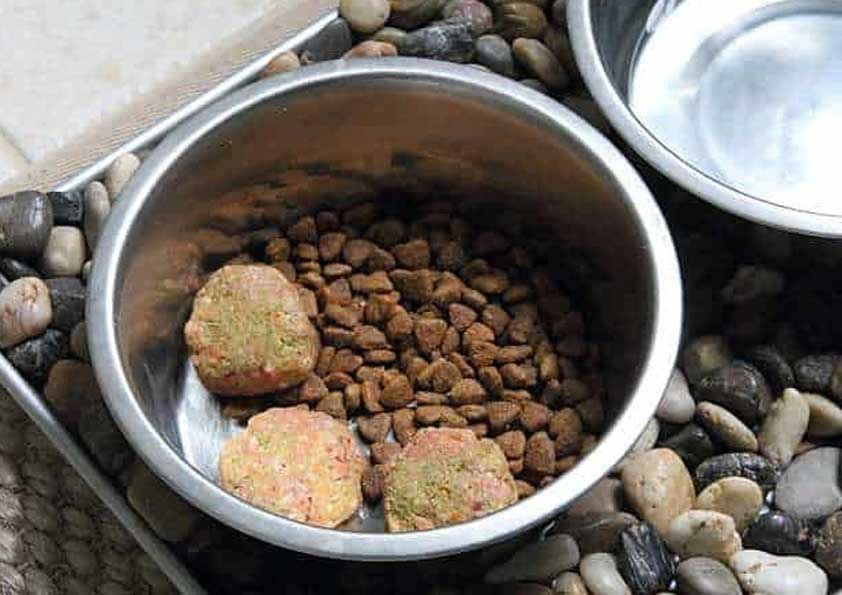 If you have a very active pet, feeding your pet raw dog food from the freezer section of the pet store will give their energy levels a boost, and their coats would be shinier than ever and their teeth in great shape. However foods such as these can get very expensive very fast. Here is a low cost alternative you can make right at home!
Ingredients
2 1/2 pounds ground beef
4 ounces chicken livers
1 carrot, chopped
1 small apple, cored
1/2 cup baby spinach
2 whole eggs (including shell)
1/2 cup plain yogurt
1 tablespoon ground flaxseed
1 tablespoon olive oil
Directions
Add the carrot, apple and spinach to a food processor and process until finely chopped.
Add the remaining ingredients except the ground beef and process again until well combined.
Transfer the mixture into a large bowl. Add the ground beef and mix together with a spatula or your hands.
Form into patties about the size of your palm and place on a parchment lined baking sheet.
Freeze patties until solid, transfer to a storage container or plastic bag and keep frozen.
Remove one day's worth of patties from the freezer the night before and place in the refrigerator to thaw before serving.
For the full recipe and instructions check out Running to the kitchen
7. Homemade Dog Food Recipes for Senior Dogs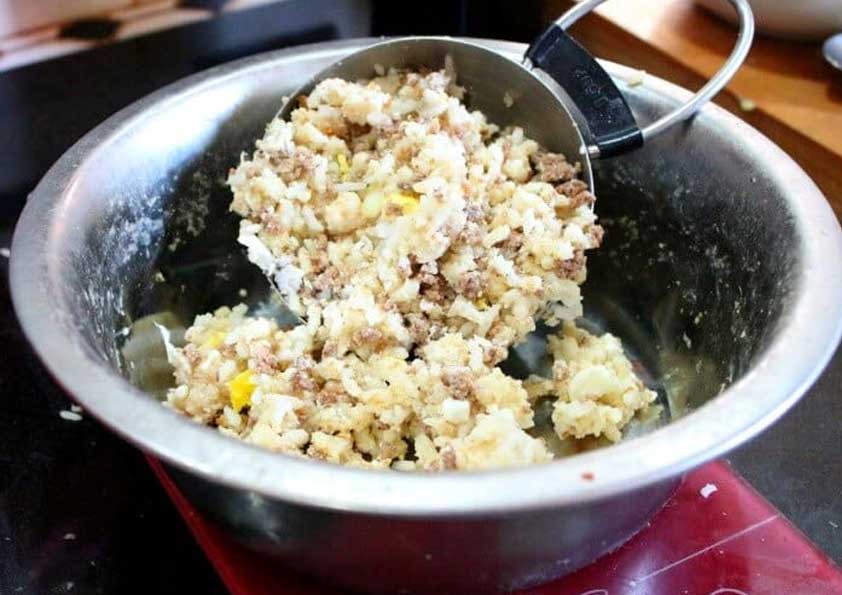 Homemade dog food recipes for senior dogs and those with medical issues aren't as difficult to make as it may seem. If you use the author's tips it doesn't even take that much time! This recipe was given to the author by her vet to feed her dog that has kidney failure. It is meant to be low protein. Talk to your vet before feeding to your pet.
Ingredients
1/4 pound ground beef, (do not use lean)
2 cups cooked white rice, (no salt)
1 hard cooked egg, , peeled and chopped
3 slices white bread, , crumbled
1 teaspoon calcium carbonate, (blend a bottle of calcium carbonate in the blender until it's a powder then keep in a resealable plastic bag)
Directions
Cook the beef until it is cooked through.
Stir in the remaining ingredients and mix it well.
Feed twice a day.
Be sure to give your dog a vitamin supplement.
For the full recipe and instructions check out Restless Chipotle
8. Healthy and Homemade Woof Loaf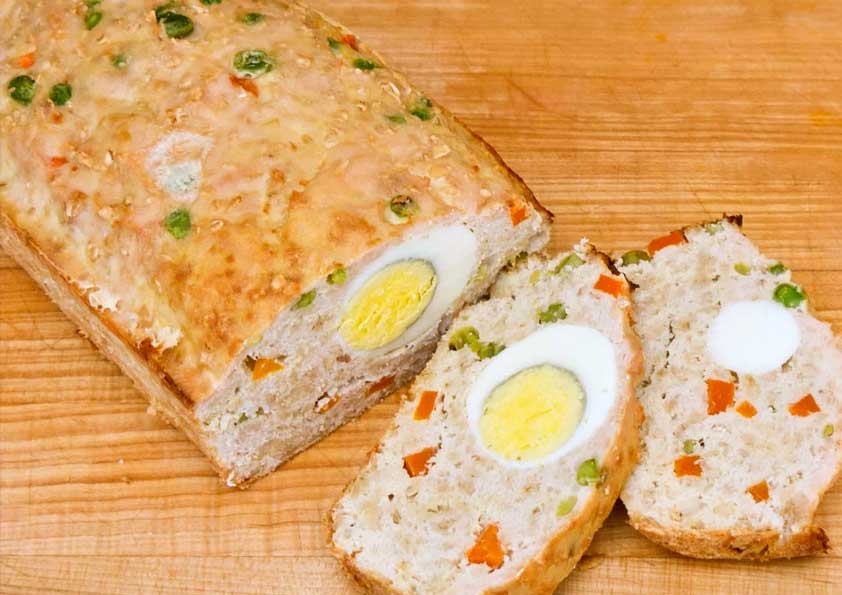 Treat your dog or cat to a healthy and homemade dinner that's filled with tasty goodness. Mix together lean ground turkey with carrots and peas for a veggie-filled dish. And the addition of eggs and oats make this woof loaf even tastier. Your little fluffer will gobble it up.
Ingredients
1 pound lean ground turkey
1/2 cup chopped carrots
1/2 cup peas
1/2 cup oats
2 eggs
3 hard-boiled eggs
Directions
Preheat your oven to 350ºF. In a bowl, mix together the lean ground turkey, chopped carrots, and peas. Both are healthy for cats and dogs, giving them the nutrition they need for strong eyes and good digestion.
Add the oats and eggs. Mix until the loaf mixture comes together. Oats help your pet's coat shine, and eggs offer extra protein. Lightly grease a loaf pan with olive oil and then add half the mixture to the pan.
Place the three hard-boiled eggs along the center of the loaf and then cover with the other half of the ground turkey mixture. Pop in the oven and bake for 45 minutes.
Cut a half-inch slice from the cooled loaf and offer it to your pet. He'll be woofing for seconds! If feeding a slice to your feline, it's a good idea to chop it up before adding it to her feeding dish.
For the full recipe and instructions check out Pop Sugar
9. Diabetic Home Made Dog Food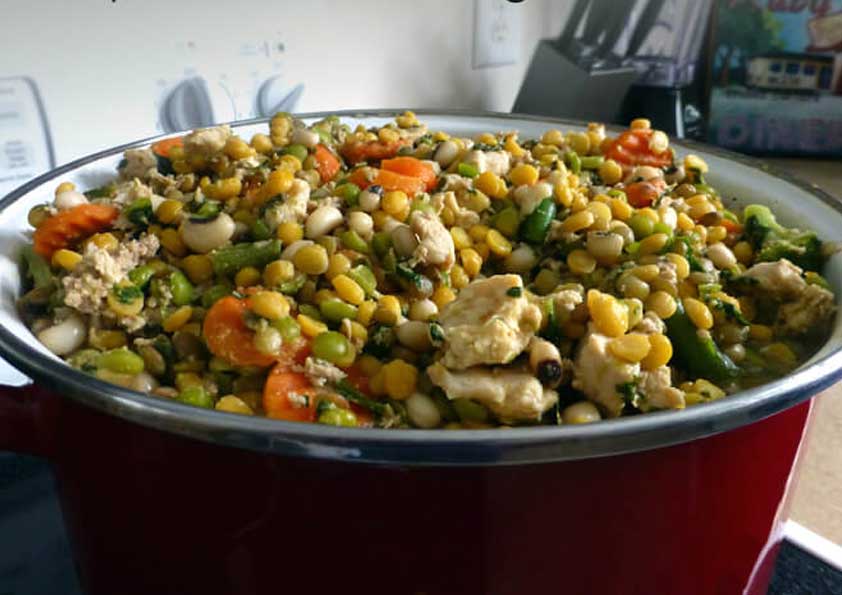 If your dog has a diabetes problem, this recipe may be a lifesaver. The author has made this diabetic dog food recipe for seven years now and has run through her vet for approval. With the main ingredient consisting of a beautiful yellow bean from India called chana dal that ranks incredibly low on the GI chart, its a good complement to your pet's diet.
Ingredients
28 cups water
1 bag (4 pounds) chana dal rinsed
2 bags (1 pound each) brown lentils rinsed
2 bags (1 pound each) black-eyed peas rinsed
2 bags (1 pound each) green split peas rinsed
1 pound pearl barley rinsed
5 pounds boneless chicken breasts cut into ½-inch cubes
1 pound ground turkey
1 can (29 ounces) Libby's 100% Pure Pumpkin
2 bags (16 ounces each) frozen broccoli cuts
2 bags (16 ounces each) frozen crinkle cut carrots
2 bags (16 ounces each) frozen green beans
2 packages (10 ounces each) frozen chopped spinach
Directions
Pour water into a 20-quart pot. Bring to a boil over high heat.
Add chana dal, brown lentils, black-eyed peas, green split peas and barley. Reduce heat to medium, stir occasionally.
Cut and add chicken breast.
Add ground turkey.
Stir in pumpkin.
Add in the frozen vegetables. (My pot will not accommodate all of the vegetables so I add in as much as I can and thaw the rest to be added in before storage).
Reduce heat to medium-low, stirring occasionally until most of the water is absorbed. Let stand and cool before storing.
For the full recipe and instructions check out Myuntangledlife
10. Scrambled Eggy Spinach and Salmon Gourmet Dog Food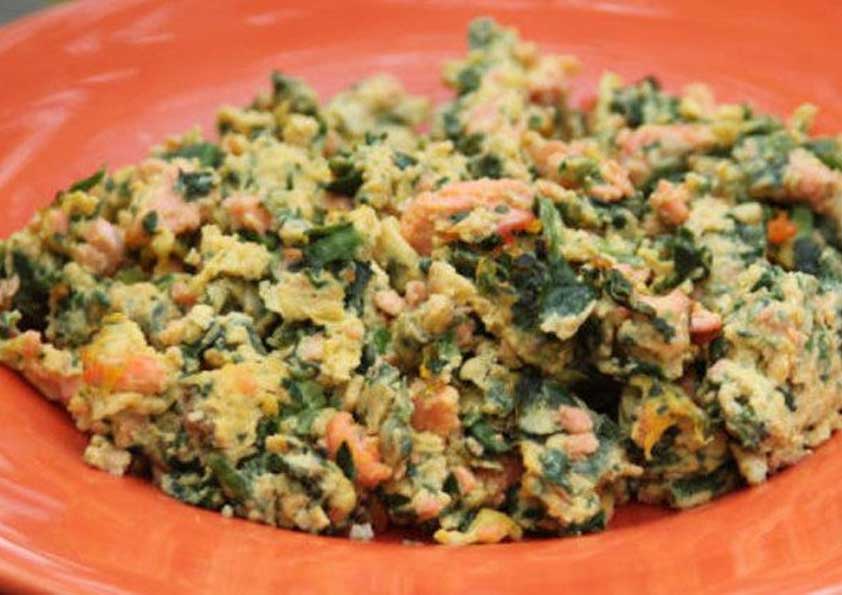 For a more gourmet selection and if your pet is a big fan of salmon and eggs, this recipe is going to be the highlight of its day. Eggs are actually good for your dog as they have good digestible protein and a range of vitamins while salmon has a great dose of healthy oils!