PetBacker's vision is to become the safest platform when it comes to providing home pet care services. On our platform we have accumulated necessary details about pet owner's dogs/cats, such as
What type of pet is it
What breed is it
What is the size of your pet
Additional information that you would like to inform the pet sitter
Is Meet and Greet important?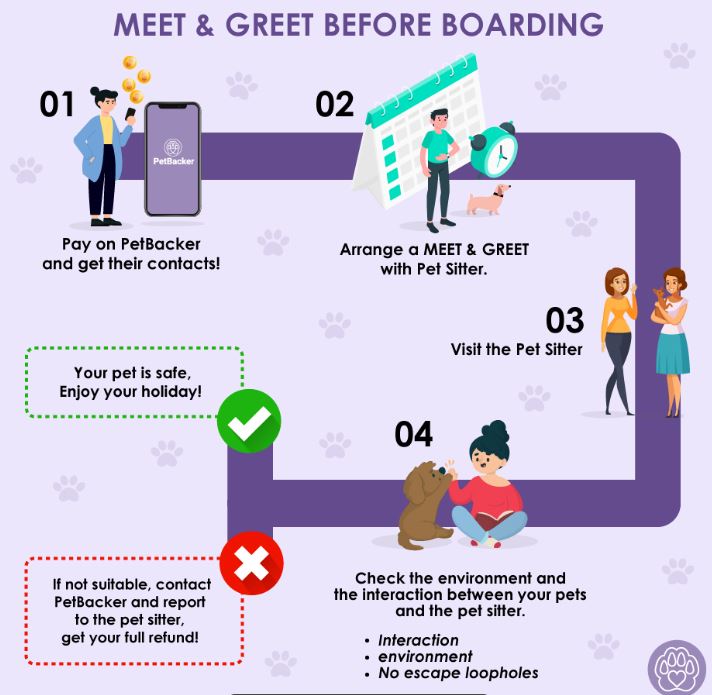 It is an essential to have a meet and greet section, as pet owner needs to take note on several factors, such as
Is the owner's dog aggressive
Where your pups will be placed at the house
What are the facilities that the sitter provides
What type of dog food does the sitter feed the dogs
Are there any safety precautions (cage, net, railling etc), this is extremely important especially when the pet sitter is living in an apartment
During meet and greet, not only you are able to see the size and types of pets that the sitter has, but also to observe the sitter pet is friendly to the owner's dog. Large dogs might harm small dogs, especially when both of them are new to each other. It is better to request that your pet and the sitter's pet is separated, even if the sitter mentions their pets are friendly,  it is better to play safe than sorry.
Who and What pets are excluded?
At the owner's profile, owners are able to see whether the sitters has aggressive dogs/animals in the house, as well as sitter necessary details. Based on the information, owners are able to choose, which pet sitter is the best for them. Bear in mind that the insurance will not cover certain types of dog breed which Petbacker has already been listed down. After choosing the right sitter, you are able to negotiate the price with the sitter.
For a platform like PetBacker you would need to pay attention to who and what pets are excluded from insurance protection. Terms like these are similar to most platforms related to pet services.
PetBacker FAQ – Who is excluded?
Service User pets with existing medical conditions or are aggresive by nature – this is why it's important to get as much info as you can on your Service User pet before booking!
Service User pets which are defined as Dangerous Dogs by the relevant authorities and all claims arising from the care of such Dangerous Dogs such as Pit Bull Terrier, Basset Griffon Vendeen, Tibetan Mastiff, Mastiff, American Staffordshire Terrier, Bouvier des Flandres, Leonberger, Toy Fox Terrier, South African Boerboel, Bulldog (american). This list extends to any cross breed of Dangerous Dogs by the relevant authorities.
Pets younger than 8 weeks or older than 10 years.
The pet sitter's own pet is not covered for any damage or injuries that may be sustained during a PetBacker booking
Commercially run Boarding Kennels
Pet Sitters who have any criminal convictions in past 5 years (excluding traffic violations).
Bookings with Pet Sitters who have pets of a different type from Pet Owners e.g. dogs and cats, dogs and rabbits
Pet Sitters who are not offering services exclusive to PetBacker e.g. also offering services on Facebook, Craigslist and other competing platforms as it would be unable for us to control or verify the number of pets received.
Reference Link: Who is excluded
Reviews and Badges
Petbacker ensure safety for both owners and sitters, not only we include pet insurance for free, but owners are able to write in reviews and complains if they are unhappy. We promote transparent reviews, our reviews are based on verified and unverified owners, verified owners are owners who have used PetBacker platform before which you can identify by the red highlight on PetBacker, unverified reviews are people who haven't book in before.
Badges on the other hand, gives you an indication of how trustable, responsible and experienced a sitter is. There are also badges that shows
How many jobs they have completed
How many repeat users they have
How responsive they are, which altogether paints a picture on how trustworthy this pet sitters are

Personality and knowledge
The best way to get to know your sitter would be talking to the sitter. Messaging features from pet care platforms like Petbacker let's you interview the sitter to see whether they know how to take care of dogs/cats. Through the discussion, you can also evaluate their personality and if they are the kind of friendly owner that you would like to leave your pet with. You can even throw them some scenarios and asked them how would they solve it, if this scenarios happen to them, from there you are able to judge whether he or she is a responsible owner. They might not know all types of breeds and how to take special care of them, but if you need special care for your pet, please inform the pet sitter beforehand.
If you think that the owner is friendly, and you are comfortable at putting your pet at the sitter's house, you can consider on sending your pet for a one day trip to give a test.
If your cat/ dog is on heat, remember to inform the sitter so that the sitter's dog or cat can be separated by yours.
Dogs that needs to be aware of 
Below picture shows the top12 dog breeds that are aggressive. As an owner you might want to consider not to send your pups for boarding if the pet sitter has any of these dogs, to get rid of unpleasing accidents. As a sitter, it is not advisable for you to take care of these following dog breed as well, because they might be aggressive to strangers.

PetBacker is 99.9% safer !
Here are some true horror stories/accidents that we have encountered.
1) Superman Cat
A cat has jumped out from the window, at a height of 18th floor. This is the reason why safety net, rail and cage is important, so that this scenario won't happen to your cat.
2) Running man Cat
As we all know cat loves to run, therefore as an owner/sitter we should always checked that the cage and door is properly locked before going anywhere. One of our owner's cat ran away from the sitter's house due to the cage has not been secured properly.
3) Stiches from a Labrador
It is a case whereby sitter was attacked by a Labrador. Sitter has found out that the Labrador is being aggressive, therefore sitter has informed the owner, and owner agreed on putting the Labrador into the cage. Unfortunately, when the sitter is feeding the dog, the dog attacked the sitter and the sitter has 29 stiches on his head.
4) Harassment from owner
This incident happens when sitter and owner meet together, but didn't pay through our platform. Instead, they meet up together and negotiate the price privately. According to the sitter, the owner threatened the sitter to lower down the price, and owner keeps calling the sitter every now and then. Besides that, the owner steals dog food from the sitter's property as well. The harassment has been lasted for a couple of days.
This also reminds our lovely user that, any payment needs to be made on the platform itself and not privately.
5) Cigarettes Burn
The owner has paid the sitter out of the platform, and after the boarding has over, the owner found out that the dog has cigarettes burn on his body. If the money wasn't paid within the platform, it will not be under our responsibility.
Other things to look for and ask about
These are the questions that you can ask about/look for when choosing a pet sitter.
1) Does the sitter have their own transport ?
Having it's own transport makes it more convenient when a pet needs a ride to the vet.
2) How far is the pet sitter house from yours?
If something unfortunate happen, as an owner you are able to rush to the sitter's house to safe your pups, if the sitter house is too far, it will not be convenient for owner when there's something happen to the pup.
3) Any experience when it comes to taking care of dogs/cats
As a pet sitter , it is important to know the basic knowledge on how to take care of a dog/cat. If a dog/cat needs special care, these basic knowledge will not only be able to guide you and help you, but it will certainly build trust between you and pet owner.
4) Is the pet sitter responsible ?
When it comes to pet services, pet owner will always want to find a pet sitter who is responsible and trustable, therefore as a pet owner, you should communicate with the pet sitter that you have chosen. If you feel like the pet sitter that you have chosen is not responsible, please contact us as soon as possible we will find another pet sitter for you.
Petbacker hope all pets are been taken care of properly during their pet boarding and sitting, it is also important for owners to choose a platform that makes them feel secure and comfortable. Don't make any decisions immdiately, research, compare and observe what is the best for you and your pups.
,