The title of the world's oldest living dog was held by Max, a beagle, dachshund and terrier mix who lived till a ripe old age of 29 years (9 August 1983 – 18 May 2013). Although the average lifespan of dachshunds range between 12-13 years, his owner, Janelle Derouen who adopted him from a Louisiana sugar cane farm in 1983, claimed that she didn't treat him differently from any other dog. However, it was believed that Janelle must have provided adequate of love and care to keep Max staying healthy for such a long time.
Although we cannot promise your dog's lifespan will be extended like the longest living dog like Max, however this article will surely help you to ensure that your best furry friend lives a long and happy life with you. Bear in mind that certain dog breeds do live longer than others, but generally, this article applies to any dog.
The differences between medium-sized dogs and senior dogs
There are different guidelines on how you define a "medium-sized dog" where most of the people measure their dogs based on
The age of the dog
The breed of the dog
The size of the dog
On average, a medium-sized dog can live up till 10-13 years depending on the breed. Some breeds such as Great Danes, Dalmatians, Mastiffs and German Shepherd which have a shorter life span will be considered as senior dogs when they reach 8-9 years. Be that as it may, medium-sized dog can also be based on their weigh in which an average medium-sized dog weigh around 25 pounds to 50 pounds. The following dog breeds are considered as medium-sized:
Beagles
Bulldogs
Cocker Spaniel
Springer Spaniel
Interestingly, it turns out that it is not medically agreed upon of the definition of a senior dog. Senior dogs are not necessarily based on their age as sizes and weights play a huge role too. Generally, dogs who grow to a giant size like The Great Danes which weighs 50-75 pounds have a shorter life expectancy, and their senior age would probably around 5 to 6. On the contrary, small breeds/ medium breeds tend to live longer and may not be seniors until the age of 8 to 9.
How to identify the signs of aging in your dog?
Sometimes, dog owners might think that the aging symptoms are merely illness but sadly it could be a sign that your dog is really aging. Here are some symptoms which indicate that your dog is aging:
Bad breath, Excessive Drooling and Gums Issue
Lumps and other skin issues
Vision problem
Weight gain and loss
There's a difference between Aging and Geriatric. Aging refers to the process of a dog getting older and geriatric refers to the end of senior period. Perhaps there are a few more symptoms such as
Change in behaviour
Difficulties following their normal sleep patterns
Increased urination
Lost of muscle mass
Memory loss
If your dog is experiencing the symptoms above, you should pay a visit to the vet to ask for recommendations as they might have supplements that are suitable for senior dogs. However, the supplements could be very expensive, and if you are not able to afford to buy it every month, you should instead consider to buy better quality dog food.
Differences between Senior dog food and regular dog food
Are there any difference ? The answer is not necessarily. In fact some products are just being market differently; that only the packing has changed.
There's no regulation of dog foods claiming to cater to seniors, which is why there's so much confusion on the topic
There certainly are, some dietary factors are able to help/ manage physical and medical change as they age. Here are some of the ways a senior dog diet might differ from a regular dog diet
Added joint supplements
Added MCT, omega-3s, and antioxidants
Higher digestibility
Nutrient adjustments
Softer texture to fight dental diseases
How to choose the right dog supplement for your dog
There are so many supplements out there which easily fill an entire medicine cabinet with different products – all targeted to meet different needs of senior dogs. Nonetheless, many supplements companies include fillers and low quality ingredients, so it's hard to know whether all of those supplements are even doing any good. Here's a guide on what to look for when buying supplements for your kiddos.
Supplement for medium-sized dogs
Medium-sized/ adult dogs still need lots of exercise, and many of them play longer when they were puppies. Whether you enjoy taking them for a long walk or a long run, all-in can help to recharge his muscles. It also supports his health in other important ways. These are the things that owner should take note of when looking for supplements for medium-sized dog
A list of nutrients that is listed down by your veterinarian
Contains prebiotics for healthy digestive function
Helps to maintain strong bones and joint mobility
Knowing what nutrition(s) that your dog is lacking
Knowing what type of nutrients that your dog (breed) can't consume/ much
Supplements that helps to support performance, stamina and endurance
Supplement for senior dogs
Senior dogs eventually start to slow down a little bit. They will still enjoy a walk at the dog park, but you will realize and notice that they will be getting more tired and stiff afterwards. These are the important ingredients that pet owners should take note of when looking for supplements for senior dogs
Contains prebiotics for healthy digestive function
Enhances the body's normal repair of connective tissues and joints
Helps to keep them calm and relaxed
Promotes a healthy immune system
Provides bone and joint reinforcing factors
Support cellular health
Dog food for medium-sized dogs and senior dogs
Before going to a pet shop assuming that a particular dog food is suitable for your dog, why not consider tagging your dog along to the vet and ask for recommendations by a veterinarian as they might know the necessary nutrients and supplements that need to be added into the dog food to give it a boost. Here is a chart that shows the number of responses (from owners) that each factor is most important when choosing a senior dog food.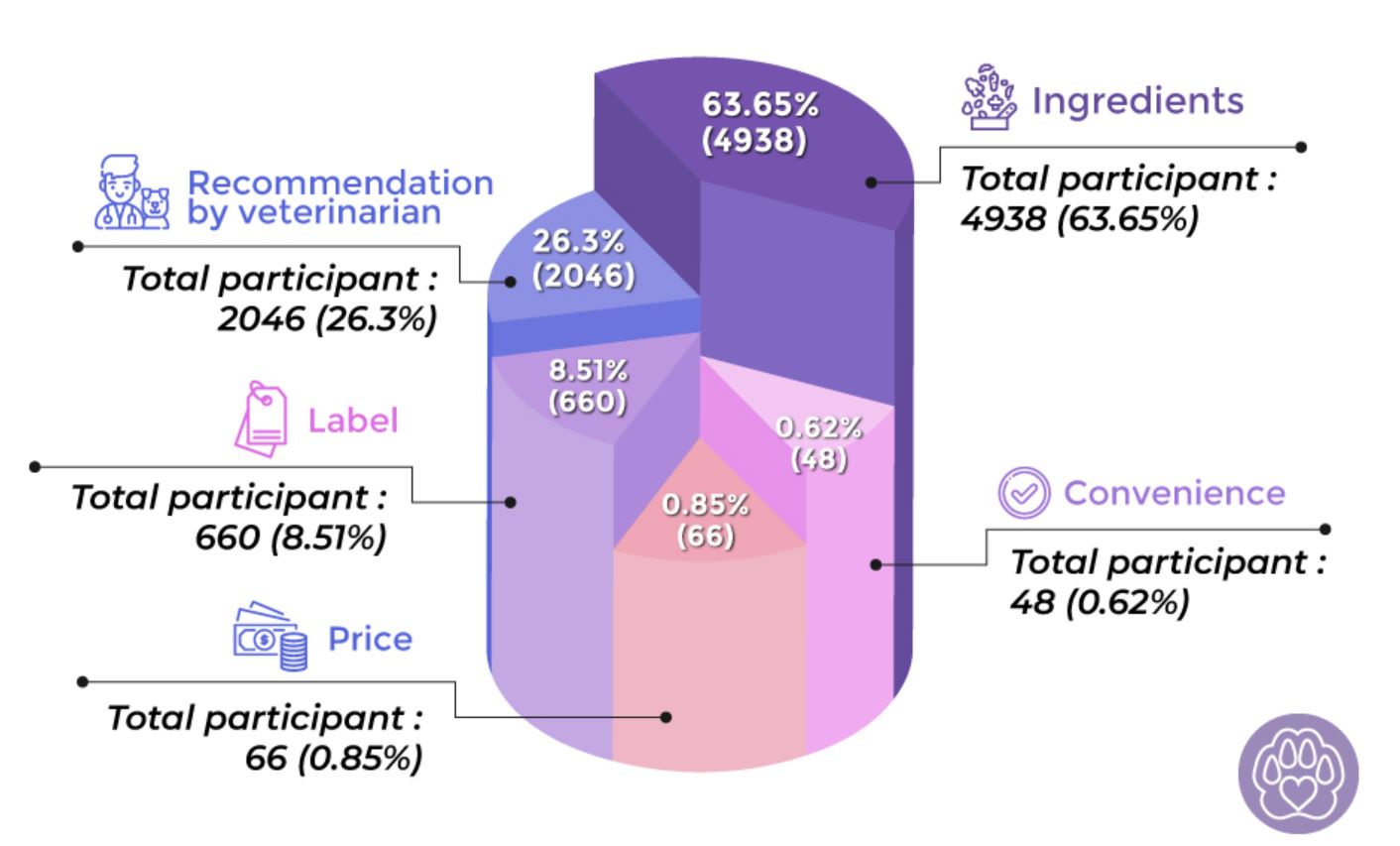 Owners have to understand that there is no such thing called "The Best" dog food but only dog food that is the best for your dog's condition.
Many 'adult' or 'all life stages' foods may be as or even more beneficial than diets marketed for seniors
Shmalberg
For medium-sized dogs, the brands of dog food which participants recommend are
American Journey
Avo Derm
Blue Buffalo
Diamond Natural
Royal Canin
Victor Purpose
Taste of the Wild
Wellness Care
1) Brain and Eye disease or Poor eyesight
American Journey Grain, Taste of the Wild and Wellness Care are brands known for development of brains and eyes of dogs. If your pup is facing any brain, eye disease or poor eyesight, these dog food brands will be able to save your buddy.
Price : $35.99-$67.99
2) Weight Loss
AvoDerm, Blue Buffalo and Victor Purpose are pet food brands meant for weight loss which are recommended fir medium-sized dogs. If you realize that your dog's weight is affecting its health, you may consider these brand suggestions.
Price: $39.67-$54.99
3) Weight Gain and Muscle
Brands like Purina Pro Plan, Blue Buffalo and Merrick will help your dog to have stronger muscles especially for dogs like American Staffordshire Terrier, Doberman, Kangal and Rottweiler etc who usually have stronger bones and muscles comparing with other dogs. Therefore, this particular dog food suits them. If you think that your pups bones or muscles are weak, these brands will definitely help your buddy.
Price: $31.47-$60
4) Sensitive Stomach
If your dog has a sensitive stomach, brands like Diamond Care, Hill's Science Diet, Nulo Freestyle is the right choice for you. Medium-sized dog usually has a sensitive stomach, due to their body's immune system.
Price: $54.99-$72.19
5) For Shedding
Brands like Instinct, Orijen and Nature are natural dog food brands to prevent dog from shedding. Orijen Six Fish dog food consists of 6 different types of Salmon, Herring and Flounder which provides lean and healthy protein source for dogs to protect their healthy skin and coats.
Price: $36.84-$93.47
How much does a medium-sized dog and senior dog should eat
Unsure of how much does your dog need to eat per meal? The pictures below can guide you.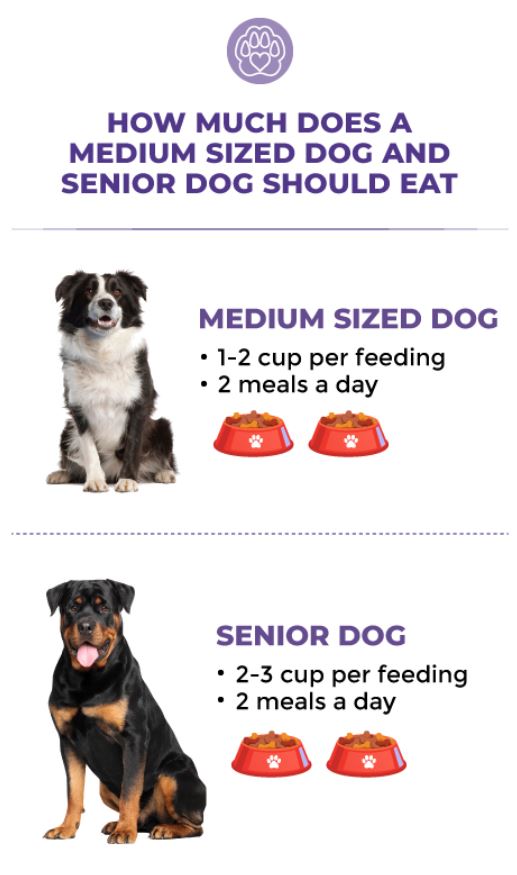 After reading this article, we hope that it helps our readers on what type of food should your medium-sized dog and senior dogs eat. Here's another blog that guides you on types of food that make your pups happier and healthier.
,